i-Serve wins the Excellence Award 2012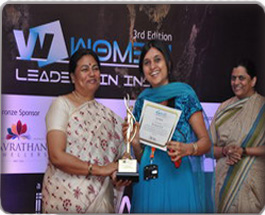 Shailaja S.P co-founder Innovative Research Services (I) Pvt. Ltd. (i-Serve), a leading market research firm has been facilitated at the third edition women leaders in India awards 2011 at a glittering award ceremony hell at the Taj Mahal palace Colaba, Mumbai. This glittering award ceremony was attended by top dignitaries of Bollywood.
Annual women leaders in India award ceremony celebrate the remarkable achievement of the successful women leaders, entrepreneurs and professionals. The event recognises an exceptional leader who has played an important role in the specific sector of developments on various levels. Shailaja S.P was declared the leading woman entrepreneur in SME category of the year 2011.
This esteemed award which is in its third year is based on various parameters like internal perception within the organisation credibility, achievement and value contribution to the business. The award also looks at persons track record performance and achievements along with values, integrity & work life balance which form the essential competencies of women leader. The event also evaluates the barriers that women encounter in the business world. Women leaders in India is an ideal environment for women entrepreneurs, business women and corporate women to explore the contemporary issues and management concerns prevailing at the workplace. This year the initiative host 200 top women from the business and political arena.
On receiving the award in the category Shailja shared "I am thrilled receiving this award as it means a lot has and has a strong influence on the women motivation for women like me". With this recognition I have an additional responsibility on my shoulder "of being able to better year on year and Excel in whatever endeavour especially for women".
On the success of women leaders in India Mr Mohammad Ishaq director at II global business information said "we are honoured to have recognised some of the wonderful women in our country. It's heartening to see that iiGlobal has been able to identify the achievements of women at various levels".
Shailja S.P, a certified lead auditor of ISO 27001, co-founder & director i-Serve.
A post graduate economics, Shailja also holds a PG diploma in journalism from Bhartiya Vidya bhavan, New Delhi and honours diploma in software management from Aptech, New Delhi. Shailja started her career as a reporter with computer today and later shifted focus towards quality and process improvement in software companies she has 10 years' experience in quality processes with companies like Satyam Datamatics, 3-Genesis and spearhead quality infection at Hurix systems. In her current position she is responsible for maintaining internal processes, acquiring and servicing clients and presenting the insights of both quantitative and qualitative projects. In her free time, Shailja loves pending time in socializing and reading books especially John Grishm's.
Feel free to contact us with your queries, your valuable questions inspire us to hard with smartness.
Email Us
info@irsindia.com
shakti.p@irsindia.com
#506, B Wing, Dheeraj Heritage Residency I,
Linking Road Extension, Shastri Nagar, Santacruz (W), Mumbai – 400 054