Shakti Patnaik
We believe that Market Research can not only determine the status quo of the brand but can also change its destiny. We wanted to create an organization that translates this belief into reality. Iserve is the outcome of this philosophy.
At a nascent stage itself, the dynamic growth rate of Iserve, put together with gratifying testimonies of our clients, substantiates that the company is headed in the right direction. Today Iserve is an integral part of the marketing efforts of prominent companies, shaping and reinforcing their future.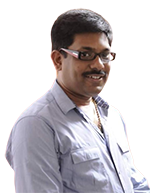 Sailaja S P
Time and again we need assurance that we are doing the right thing, if we are targeting the right customer, at the right time, with the right product, in the right way. Iserve ensures that 'right' at every step.
With the talent to pick consumer insights and the intelligence to judge it vis-à-vis market reality and marketing constraints, we ensure a competitive edge to a brand. We not only interpret the reality for you but also tell you how to alter it to your advantage.
Email Us
info@irsindia.com
shakti.p@irsindia.com
#506, B Wing, Dheeraj Heritage Residency I,
Linking Road Extension, Shastri Nagar, Santacruz (W), Mumbai – 400 054