i-Serve Receives Indian Industrial Excellence Award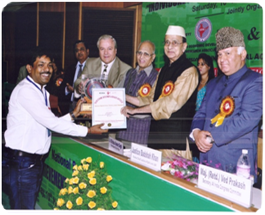 At a power pack award ceremony Innovative Research Services (I) Pvt. Ltd. received the prestigious Individual Achievement & National Development award organised by the Indian Economic Development & Research Association at the India Habitat Centre, New Delhi on 10th November 2012.
IEDRA has been formed for the economic and social development of individuals and organisations. It operates on national and international levels with the object of promoting the economic welfare of all Nations. This award was organised to recognise individuals and organisations for their excellent work in their field across the country. As seen in the picture Mr Shakti Patnaik co-founder of i-Serve has been facilitated by Dr. Bhishma Narayan Singh the former Union Minister Of Parliamentary Affairs, Food & Civil Supplies, Work & Housing And Labour. Talking about the stupendous achievement, Co-Founder and Director i-Serve Mr Shakti Patnaik, "This year it has been lucky for our recognition just in August we were awarded at IIT Delhi for our excellence in our field and now this award for national development what more can I ask for our team is fully charged up and look for many that all of us at I serve will cherish for a long time.
Feel free to contact us with your queries, your valuable questions inspire us to hard with smartness.
Email Us
info@irsindia.com
shakti.p@irsindia.com
#506, B Wing, Dheeraj Heritage Residency I,
Linking Road Extension, Shastri Nagar, Santacruz (W), Mumbai – 400 054