i-Serve wins the Excellence Award 2012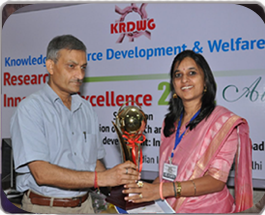 Innovative research services. (i-serve) has won the Excellence Award 2012 for innovation in research services. KRDWG's (knowledge resource development and welfare group) expert panel for excellence Award 2012 selected i-serve for their commendable work in the field.
The winners of Excellence Awards 2012 for innovation from across India and abroad were honoured in a seminar and award ceremony held on 31st August at IIT Delhi by Dr. Anil Wali, managing director FIIT, IIT Delhi.
Talking about the stupendous achievement, co-founder and director i-serve Shailja S.P. said this is a great achievement for the organisation and shall act as a morale booster.  It is not just the award but the fact that we are being considered for such a coveted title too that gives us immense pride. This is a prestigious moment that all of us will cherish for a long time. "seen in the photo is Shalja S.P receiving the award from Dr. Anil Wali.
Feel free to contact us with your queries, your valuable questions inspire us to hard with smartness.
Email Us
info@irsindia.com
shakti.p@irsindia.com
#506, B Wing, Dheeraj Heritage Residency I,
Linking Road Extension, Shastri Nagar, Santacruz (W), Mumbai – 400 054